Concealers- Magic Product For A Perfect Fake Makeup
Concealers are the eraser for the skin. It gives you a flawless look, this product is must have in your makeup kit. It covers up all the imperfections and gives you a radiant and clear complexion. Whether you apply foundation layers or something else, nothing works like how the best concealer can work to hide problematic spots. Concealer is a miraculous product and it covers scars, pimples, redness, marks, and any other skin problem.
It not only conceals the blemishes but also acts as a great base for eye shadow. As eye shadow is not made to apply directly on your skin if one wants to get a long-lasting effect. You can even use loose powder to set the concealer perfectly and get a fresh look.
If you are perfect in your application then select a high-quality concealer, you will surely get the excellent results. All makeup artists apply concealer since it is the main key to achieve a professional touch.
But many people confuse between concealers and foundations, remember Concealer is not an alternative to foundation. If you are looking for more coverage, use concealer after applying your foundation. Only apply concealer to small patches of skin that have a different color (under your eyes, around your nose and on spots). And one more thing skipping foundation and only using concealer where necessary only works if you have an almost perfect complexion. And even then your concealer should perfectly match your skin tone. Also remember to apply it sparingly, in very thin layers.
Let's know more about this magic product
Types of Concealers-
Liquid Concealers:
Liquid concealer is primarily used to hide uneven skin tones, cover blemishes and conceal dark circles under and above the eyes. Liquid concealers work better than concealer sticks for people with dry skin and to cover large areas of the face like dark circles under the eyes. It can be used alone or along with the foundation. Liquid concealer smoothly blends into your skin's natural tone to hide away dark circles under the eyes leaving you looking fresh and healthy.
Stick Concealers:
Solid concealer have been around for a long time. Its main purpose is to cover up spots, blemishes and small imperfections on the skin. They are primarily for very small areas on the face. If you need to cover larger areas like under-eye circles then solid concealers become very noticeable because of their texture making it obvious you are wearing make-up.
Cream Concealer:
This texture of concealer often comes in a pot and is the best for hydrating normal to dry skin. If you have breakout-prone or sensitive skin, be sure to look for a cream concealer that's oil-free, non-comedogenic and alcohol-free.
Pencil Concealer:
It is ideal for drawing lines and defining contours.
Cream to Powder Concealer:
Cream to powder concealer is best for dry, normal, or combination skin. It's available in a powdery or matte finish, and it's buildable from light to medium coverage. It's easy to apply because it glides across your skin. You can use a concealer brush or your fingers to apply it. Since it's a powder, it can slip into fine lines and wrinkles after a few hours, which can accentuate them. It has more staying powder because it's a powder, but most women with fine lines tend to avoid this type of concealer. If you are covering dry, flakey skin, the powder can emphasize dry patches. It can also make breakouts worse, so use caution if you are prone to breakouts.
Colour Correcting Concealer:
If you're looking for a concealer to help even out your skin tone, a colour-correcting concealer is what you need. Generally, these are only used when flesh-toned concealer doesn't provide enough coverage. If you do use a colour correcting concealer, always wear foundation over the concealer to neutralize the colour. Use this handy colour guide below to choose your colour, or look for a concealer palette to get one of each colour.
Lavender corrects yellow shades in your skin

Green corrects redness

Pink corrects a blue tone on the skin

Orange corrects deep purple, grey, or blue on the skin

Yellow corrects deep purple or scarring
Concealers According to the Type of Skin
Skin tone or skin colour or skin type matters a lot while choosing the concealer. Check out some of the best concealers which fits for your needs.
Oily skin: Maybelline New York Fit!

Maybelline New York Fit Me is best for oily skin as it provided with translucent base. It is perfect for flawless, natural coverage and gives you a fresh look. It is specially designed for oily skin. This oil-free concealer matches skin tones to deliver a more even complexion. Breathable, natural and contains no oils or waxes. Its main features are Its lightweight pigments allow skin's natural highs and lows to show through as well as it is non-comedogenic and won't clog your pores and perfect for under eye area. You just have to put dot liquid concealer onto your flaws and also under eye (to conceal dark circles) and then pat it with a brush or blend it with your finger.
Dry Skin: Anastasia Beverly Hills Concealer 3.75
Anastasia Beverly Hills products define and shape your personality. The ABH balm concealer is best for normal to dry skin as the extra creaminess can oil your skin. It is one of the best concealers in the market at a very reasonable price. This product has a creamy texture and blends very easily. Similarly, you can apply it with any brush and produce excellent effects. The ABH balm concealer gives you complete coverage and keeps your spots hidden for a long time. It also nourishes the skin with vegan-friendly products. You can use the concealer to cover damaged skin. However, this product looks a little high price but the results you would gain are extraordinary. This balm concealer is certified best concealer for an eye. You can use it for full and medium coverage. As it comes in creamy texture so it can easily blend so you can use both brush or tap method to apply it. Moreover, it covers your redness, blue veins, dark circles, blemishes, and even dark spots. Apply the concealer before the foundation and for better results apply it twice
Sensitive skin: BareMinerals Correcting Concealer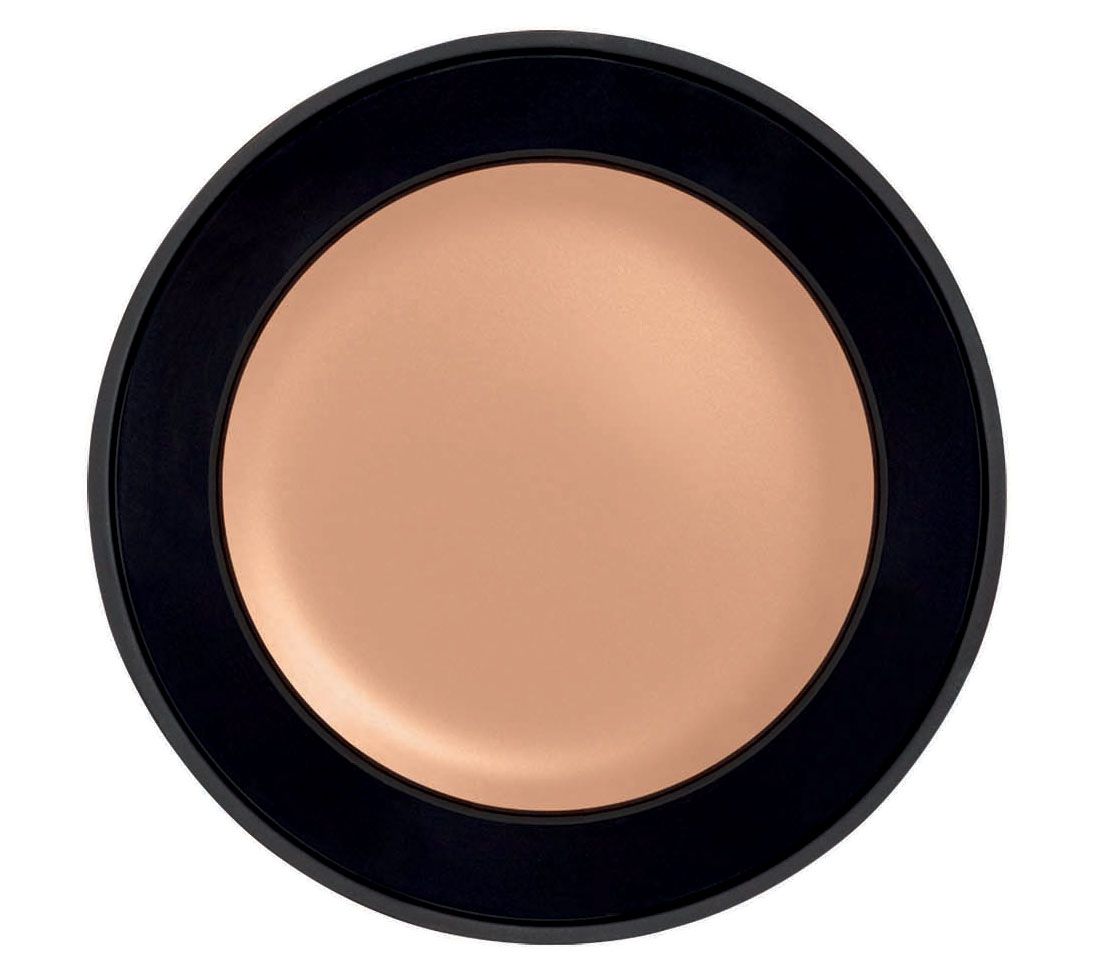 If you have sensitive skin then this product is right for you. The brand unleashes the creamy formula that is enriched with SPF20 to protect your skin from sun rays and conceal the dark spots under eyes, skin blemishes and skin imperfections. It gives the radiant and bright the dark spots of the skin adequately. It has multiple benefits in one pack such as it covers the under eyes darkness, skin blemishes and give you the gentle and flawless look. You can easily apply this product directly on the dark spots and dark eye circles by using the best concealer brush or sponge and get the brighter skin tone as you originally had!
Dark complexion: Nars Radiant Creamy Concealer:

Every makeup artist we reached out to was quick to name NARS Radiant Creamy Concealer, available in 22 shades, as one of the best. It's a super-creamy formula with medium-to-full-coverage that corrects complexion imperfections and can multi-task as highlight or contour. The main function of this concealer is Brightens; Corrects & Perfects all day long. It is enriched with hydrating, multi-action skincare benefits and light diffusing technology, it instantly obscures imperfections and diminishes fine lines and signs of fatigue. Makeup artist Bob Scott adds, "The NARS Radiant Creamy Concealer has been my go-to for a few years now, especially for darker skin tones. They do a great job at creating shades that are true to the skin they are meant to match, as opposed to going down a colour wheel and creating a cool or warm version of whichever tone. These concealers truly melt into the skin and give long lasting coverage."
Concealers for Combination Skin
Which concealer will work best for your combo skin depends on which part of your face you're using it: for example, you may have an oily T-zone but dry skin on the rest of your face. This may be another scenario where you can use whatever non-comedogenic concealer works best for your skin tone, but layer it with another product — moisturizer where you're dry; mattifier or powder where you're oily.
Conclusion
Concealer is critical and choosing the right shade even more so. Concealer does one thing and it does it well: conceal. That applies to a range of skin issues, including acne, splotchy skin, and notable scarring. You don't need a ton to get the job done, either. Usually, a little dot (blended well) is enough to soften the appearance enough for no one to notice. Plus, it makes your skin look great. But before choosing any product of concealer, consult with professionals for your skin type first and then use the right product for your skin. You must aware of the product which you are using.