Hair Tools For Great Hair
When it comes to hair everyone is obsessed with getting the perfect tools for hair. Knowing about the various & right product based hair tool is a daunting task as there are several must-have hair tools every woman needs. If you are familiar with different hair tools then you can create many different styles and get a new look. But the question arises now that which are tools you must have for styling, don't worry. Here some hair tools are sort for you.
Blow Dryer
Many people are familiar with the daily routine of washing, drying, and styling their hair. Although hair will eventually dry on its own if given enough time, most people reach for a hair dryer to speed up the process. Or can say blow drying your hair will make it dry faster and will give it more volume. It makes your hair 'bigger' and lets you have a lot of fun with your hair. In the market, there are many types of dryers available — all with different features and attributes — and have different price. But for The right dryer: Look for at least 1,800 watts and multiple heats and air settings, says New York City stylist Sarah Potempa. Medium heat is best for predrying hair. High heat manipulates your hair's shape, and air sets a style. It must have a nozzle as it is key to a smooth look and keeps hair from getting too close to the heat. Try Drybar Buttercup Blow Dryer or Hot Tools Signature Series 1875W Salon Turbo Ionic Dryer
Hot Rollers
Hot rollers are hotter than ever, This new technology has taken this classic hair styling tool to greater heights in salons and at home with new products designed to make them easier to use and gentler on hair. If you want big, bouncy curls fast then try heated rollers. Heated rollers come in sets in a box that you plug into an electric socket and leave for about 10 minutes to warm up. The rollers are usually ceramic and in three sizes – small, medium and large – to create different types of curls, from tight ringlets to bouncy waves. The type of curl they create depends on your hair length, the heat of the rollers and the length of time you leave them in. The size of the sections of hair you use will also affect the type of curl you create. You can try- T3 Volumizing Hot Rollers LUXE for Volume, Body, and Shine or Remington Ionic Conditioning Hair Setter.
Flat Iron
When it comes to straightening your hair, using a flat iron is usually the go-to styling tool. A good flat iron can make it look like you have a completely different head of hair, taking your locks from curly or wavy to pin straight. Whether you have wavy hair, coarse hair, kinky hair, frizzy hair, or flyways, flat ironing can make that hair look longer, shinier, smoother, and sleeker. There are many types of flat iron are available which are Ceramic flat irons; Ionic flat irons Tourmaline flat irons; Titanium flat irons; Wet to dry flat irons. You can buy- BaBylissPRO, Nano Titanium Ultra Thin Straightening Iron, HSI, Professional Glider Ceramic Tourmaline Ionic Flat Iron, CHI, Tourmaline Ceramic Hairstyling Iron 1″.
Curling Iron
It is a device which bends hair using heat. This device has a specially heated unit which curls hair and gives it perfect definition. The barrel part does the main curling. Curling irons range to create tiny spirals or big, loose curls. For tighter curls, you should opt for a three-quarter-inch iron or smaller. If you're unsure of what size you want, a one-inch curling iron is a safe bet for most hair types and lengths. Your hair type can determine which curling irons will actually work for you. If you've got thin or fine hair, you'll want an iron with low heat settings so as to not burn your hair. You might also want to consider a more traditional curling iron as your hair might slip out of some of the self-rotating options, especially the ones without a clamp. For those with thick hair, you'll need a curling iron with higher heat options to ensure your locks get hot enough to hold their shape. You may try HOT TOOLS Professional 24k Gold Extra-Long Barrel Curling Iron, BaBylissPRO Nano Titanium Spring Curling Iron, Kiss products Ceramic Instawave 1" Automatic Curling Iron
Hot Brushes
Hot Brushes straighten hair using heated plates and bristles that glide through the dry hair strands to relax the molecular bonds that keep hair curly. They straighten hair and add shine while maintaining volume. If your hair is average thickness to thin or damaged, these hot straightening brushes are a good choice. Many of them feature ceramic and ionic technology like tourmaline or diamond infusion that add shine, neutralize static to remove frizz and protect your hair from damage with lower temperatures and no hot spots. Bristles are made of nylon, silicone and ceramic materials to glide gently and smoothly through the hair. You can opt Eva NYC Healthy heat straightening Brush; Conair Infinity Pro Diamond Brilliance Ceramic Hot Paddle Brush.
Handheld Steamer
Using a hair steamer before shampooing is the preferred method, and leaves hair feeling soft with great definition. Handheld steamers are, of course, a lot smaller, and great if you don't have enough room for a tabletop. They both replenish moisture throughout the hair and make styling a lot easier. One of the best advantages of a handheld steamer is reviving your Day 2 hair. You can definitely get another day or so out of your beautiful twist-out by simply using a handheld steamer before fluffing and styling. The most recommended handheld steamer is the Q-Redew Hand Held Steamer. In just minutes you can go from flat to fabulous!
Duck Bill Clips
If you love to experiment with your hair with different hairstyles then you must know how important these hairdressing clips are. These clips are meant for separating your hair into sections while you style it. You often see them at your hairdresser's salon. They work wonderfully at sectioning off the hair. This will really helpful in curling or ironing your hair easily.
Donuts
Sometimes a quick messy bun is just not enough! When you're looking for something sleek, easy and simple, styling a donut bun is definitely a go-to. It's great for when you have a busy day at the office, but transitions easily as an ultra cute party style. So it's an all-around win, especially for those "second-day" styles when you're not quite able to let your hair down! These come in different sizes and color. You can use according to your hair thickness & hair color.
Crocodile Sectioning Clips
These crocodile sectioning clips are strong enough for managing thick hair. These sectioning clips have unique hinged clips. It is possible to hold any amount of hair with it. It is perfect for hair salon, hairdresser, etc. The hair does not slip as the best sectioning clip holds them steady. It is strong enough to grip thick hair.
Hair Puff Volumizer
Hair can be volume up with this hair puff instantly. It is easy to hold and it comes with an anti-slippery texture, so it stays in the hair without slipping or moving. Hair puff maker comes in two sizes, from which you can select any depending on your puff need.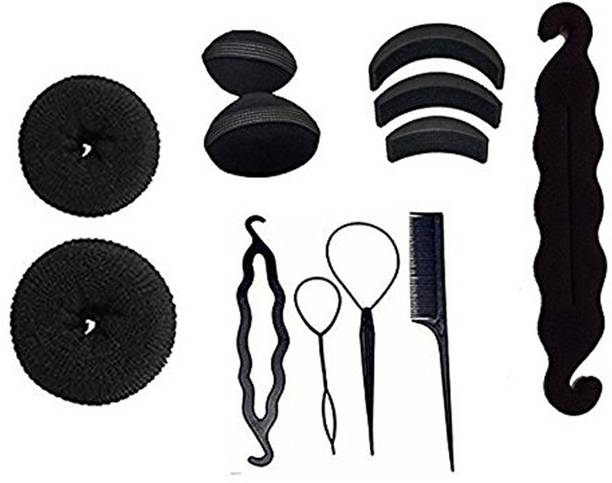 So, you have an enormous selection of hair styling tools you need to get the job done. Before choosing any tool make sure you must research it so that you will get better results.