Everything you need to know about Hot Rollers
If you have straight hair, getting full, bouncy curls in the comfort of your home has possibly always been on your wish list. Skip traditional rollers to get curly hair in favour of Heat Roller Set. Using hot hair rollers to get natural curls and waves has been the favorite method of getting professional results at home. They are available in all sizes for suiting different requirements and do not require a lot of time or efforts. The heated rollers take minutes to heat up for luscious anti-frizz and anti-static curls.
Benefits of Hot Rollers
For achieving wavy hair look the easiest way is using hot rollers.

Hot rollers give you the curls you've always wanted, without having to commit to anything as permanent as a perm. So You can change up your look as often as you want

With hot rollers, you can still have that gorgeous wavy hair you've always wanted, even if you don't have time to sit with irons. Hot rollers usually take around 10 seconds to heat up, and a couple more minutes to set. While your hair is setting, you can get on with other tasks, like eating breakfast, preparing your wardrobe, making school lunches, working… pretty much anything you need to do.

Hot rollers aren't just used to add curls – stylists use them to give extra volume too.
How to use Hot Rollers
Hot rollers are a fun and easy way to achieve curls or waves.
Start with clean, dry, smooth hair. Before using hot rollers, the hair should be shampooed, conditioned, and dried thoroughly. Heated rollers can only be used on completely dry hair so blow dries your hair straight before beginning. If you are wearing sew in hair extensions, flat iron the leave out hair to blend in with the extensions before using the rollers.

Apply heat protectant over your hair and brush through to evenly distribute and to get rid of any tangles.

the type of hot rollers that you have is essential according to hair length. For volume, you should use the largest rollers that you have. If you have a quality roller set, you will have different size rollers. For longer hair, the larger the rollers, the better the volume will be.

Divide your hair into 3 sections if you are using 12 rollers and divide into 4 sections for 8 rollers. Divide each section into the appropriate number for the rollers that you are going be applying. So for 8 rollers you will need to divide each of your 4 sections into two and apply a roller to each section of hair.

Roll the hair in the direction that you want the curl to fall. Use the big rollers at the back of your head and save the medium ones for the top and front section because this where curls are most visible.

Secure each curl with the holding clip that the rollers come with making sure that each roller is rolled firmly against your scalp. This ensures that you get nice even curls throughout.

Make sure that the roll is rolled tightly. If the roll isn't rolled tightly, it is going to fall out of your hair. The shorter the hair, the more tightly it should be.

Leave the rollers in your hair for the recommended period of time (usually 15 minutes) while you prepare yourself for your day.

Once the allotted time has gone by, carefully unwind each roller to release the gorgeous curl. The rollers should still be slightly warm. When the rollers are cold, you remove the curls, use hairspray and lift your hair from the roots. It is going to double the volume of your natural hair.

Style your hair by separating the curls with your fingers for a more voluminous look.
Best 5 hot rollers for every type of curl.
Remington Pro Hair Setter with Thermaluxe Advanced Thermal Technology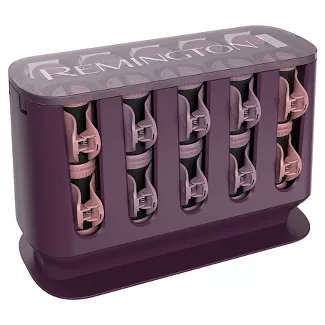 Feel confident and beautiful with a head full of smooth, gorgeous curls. The Remington T|Studio Thermaluxe Setter sets curls in five minutes so you're ready to step out the door in no time. Special dual heating technology heats curls from both inside and out, ensuring a smooth, even curl that will carry you through your day or evening. This set comes with 12 large (1 ¼ inch) and eight medium (1 inch) rollers that heat up in just 90 seconds and store neatly in a space-saving case with cord storage. You get 20 Rollers (12 large, 8 medium) in one kit.
Revlon Curls-to-Go Travel Hot Rollers
Revlon curls-to-go travel hot rollers will remain a unique set. This set of hot rollers is specifically designed for travels. Hence they are very portable. If you travel a lot and you want to have your hot rollers handy wherever you go, then Revlon curls-to-go hot rollers are your best bet. Its portability is made possible by the ultra-lightweight design of the rollers. This is then complemented by a strong travel pouch. It is very easy to use. Key features: It is comprised of ten rollers. As well as highly portable and easy to use. Dual voltage allows it to work in any part of the world.
Conair Compact Multi-Size Hot Rollers
You can achieve beautiful curls and waves with the Conair Compact Multi-Size Hot Rollers, perfect for any hair type and length with best budget. This set gets you 20 hot rollers, coordinating rods, and a little more counter space thanks to the compact case. The rollers come in small, medium, and large so you can create numerous styles from large and voluminous to tight and springy. If you have slippery strands, you'll also love the grippers on the rollers that not only hold onto hair but also help to keep tangles at bay. Just wait for the red light to turn on and you're ready to roll.
BaBylissPRO Nano Titanium Professional 20-Roller Hairsetter
BaByliss is known for producing quality hair styling tools that are built to last, and the Nano Titanium Professional Jumbo Roller set is no exception. Expect these babies to heat up fast, stay put without leaving a crease, and hold a curl all day long. Includes convenient compartment for pins. It gentle on hair, heats up fast and really holds curl.
Caruso C97953 30 Molecular Steam Hairsetter With 30 Rollers
This one is a classic. When it comes to hot rollers on short hair, the Caruso Molecular Steam Hairsetter is one of the top brands. It have 30 Foam Rollers Included (6 Petite; 6 Small; 6 Medium; 6 Large & 6 Jumbo) for maximum styling versatility with dual voltage so you can plug in anywhere – great for traveling. BONUS storage bag for easy organization and transportation. Apart from its price, it features great quality. So you can count on it to do wonders for your hair.