Apply Nail Colour as Per Mood, Occasion & Outfit
A colourless life is a bane. Each colour has psychology behind it. Even we don't notice but each colour throws a unique impact on us. That's why different colours do full vitality and that we must have all in our wardrobe. Also manicure loving girls have the perfect collection of nail paints on their wardrobe too.
You want to look stunning all the time especially at party time you select- a perfect dress with matching earrings, necklace, rings, clutches, hair accessories but do you ever get confused in applying nail colour according to your outfit or according to the situation? On this article, might be it will clear out your confusion. Let's coordinate your polish to your clothing to accent not just your chosen dress or suit, but the overall beauty of your hands and nails.
According to Interview
Going for an interview? You have to give your best impression to the interviewer. With proper dress up you must be as simple in your style. Once you've nailed down a look that's appropriate, paint your nails a natural nude or light pink hue. The colour won't be distracting to your interviewer, but it still offers a touch of serious style.
According to Skin Tone
Some of us believed that lighter skin tones should wear light shades and the darker the skin the darker the nail polish shades should be. But this is a very simplistic rule of thumb and should only be applied when you really don't have the time or patience to experiment.
According to Accessories
Accessories play a very important role in our outfit. Your necklace, your rings all are noticeable for everyone and if you would like to go matching, the best thing that you can do is to match your nail polish colour with your accessories. If you are wearing a gold necklace, you can go for a gold coloured nail polish. You can also try matching your nail polish colour with the colour of your bags or shoes.
According to Makeup
First, figure out which lipstick colours or eye shadow look best on you, then you'll put that nail polish colours of the same shade are right for you. This will give you a more confident look.
According to Mood
Choose the colour and texture of the polish on your fingernails or toenails. Pick a nail polish and you pick the mood you want your hands and feet to send out to the world. Coordinate your polish to your clothing to accent not just your chosen dress or suit, but the overall beauty of your hands and nails. So whatever you want to put nail paint just go through according to your mood.
According to Weather
If you polish your nail according to the season then it will show how versatile personality you have. You can try a floral design with pastel colours in the spring season. During summer season go with lighter shades similarly in winter season you can choose darker shades.
According to Current Trend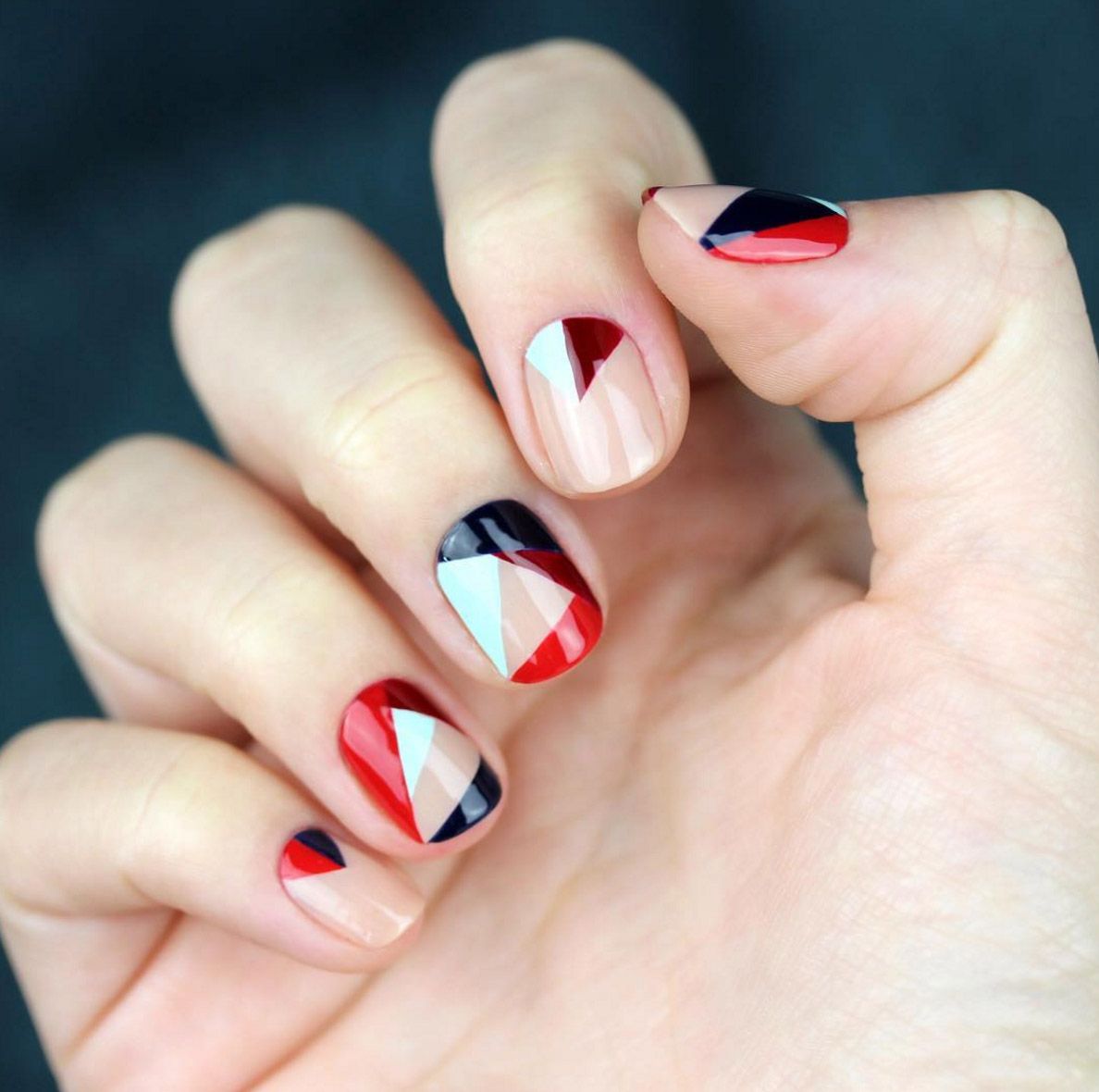 Trendy people always go with the trend. Sometimes the current trends can give you some great ideas for a new nail polish look which you never tried before and which you may never even have thought of. You may discover a new nail polish colour which looks great on you in the bargain too.
According to Party
This is the best time when we have the chance to show nail art & that's the time when your nails noticeable & appreciable by everyone. You can use a glittery nail, French nail art, mosaic nail art, gothic nail art or so on.
According to Dress colour:
Design of dress matters a lot while you pick the nail paint colour. If you wear a printed dress then you must stay away from colourful nail art. It is advisable if you go for one colour tone which matches with your outfit (must not contrast with it). However, if you are more of a simple kind of gal, feel free to experiment with your nails
White dress - black, gold, red, silver, pastels, nudes and many more! But look best in white & black nail art design.

Black dress- Timeless black is versatile, elegant and looks especially beautiful with red, white, and gold and silver. Or you can also go with a matte black nail polish would surely look adorable!). Glittery gold or electric blue will also look fab.

Dark Purple or dark yellow dress- This rich colour looks hot with golden brown, pastel yellow, grey, black, turquoise, mint green, light orange.

Chocolate brown- It pairs well with a lighter, creamy mustard yellow. This rich, earthy tone complements the softness of this shade of yellow.

Red colour- This is the most favourite colour for every girl in terms of outfit. Any colour goes with the red outfit but you can choose a neutral colour (that is black and white) or metallic colour(like silver or gold). You can also opt for a royal blue nail polish.
No matter what nail polish colour you choose, it's going to look tacky if you don't apply it well. Lumpy, uneven strokes will take the attention away from the prettiest colour and just look childish. So learn to apply nail polish properly. Still, in future, you have any confusion regarding picking the nail colour then don't worry, get a French manicure. It looks awesome with absolutely everything and you'll look sophisticated to boot.