All About Polygel!
New manicure give a new confident and feel like heaven. Also it exudes style and sophistication. There are numerous types of nail extensions are available at salon. Acrylic, gel, shellac, etc. Let's understand a different type of extension, which is more flexible than acrylic, stronger than hard gel, and lighter than both, that is PloyGel nail extensions.
So What Is POLYGEL?
Poly gel is cross between acrylic and hard gel. As it is the hybrid formula especially created for the technicians, as this extension have mixed quality of acrylic and gel nail so they can give their client the perfect nail extensions.
Poly gel can be applied as an overlay on your natural nails or as a nail enhancement. It requires no ratios, mixing, or monomers, and is supposed to give nail technicians the ultimate power when it comes to shaping and overlaying your ideal nails. The liquid used to sculpt PolyGel is called Slip. Slip is not a monomer; it has no active ingredients, and unlike acrylic monomer, it has a light, pleasant fragrance. It's simply used to make the PolyGel easy to shape. Yes it is cured under a UV light, but it is a lot lighter than both gel and acrylic nails.
The best thing of PolyGel is it itself has gel like consistency and comes on different colors with finish like our regular nail polish. Also you can create an unlimited amount of design with no tacky layer left after curing because PolyGel is extremely moldable and flexible. PolyGel nails are great if you want long nails but have trouble growing your natural nails.
What Are the Steps Involve In Applying Polygel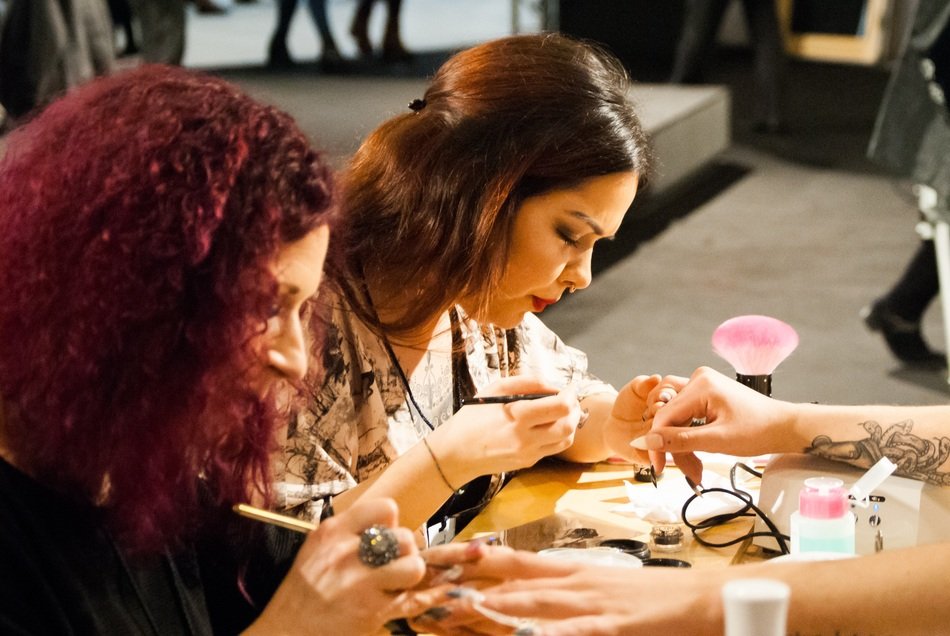 Your tech will Push back and trim cuticles so the bed of the nail is completely clean from any skin, flakes, or cuticles.

Wash your hands with soap and water. Make sure the nail is completely dry. If you want, you can also use rubbing alcohol to get rid of any oil on the surface of the nail.

Apply a thin coat of base coat to the entire nail. Then cure it with UV lamp for about 60 seconds.

With the help of spatula, your technician will take a ball of PolyGel and it will apply in the middle of tip. Using a brush moistened with a special solution made specifically for PolyGel, your nail technician will smooth the product out so that it covers your entire nail. Then it will be mold according to your desire shape and length.

Next step is to dry it under UV lamp. Your technician will place your nails under an LED or UV lamp for about 30 seconds.

As nail technician doesn't have to use an e-file to shape PolyGel as it is very soft then other options. Only hand file is enough to get job done. Hand file help to smoothing out any bumps or uneven areas, as well as helping define the shape you want even further.

If you want a color, (matte or shine) you can choose a gel color of your choice and then they will cure your manicure for another 60 seconds. Finally, a top coat will be applied and cured.

You now have a PolyGel manicure.
Why Poly Gel?
PolyGel manicure can last up to three weeks or about 21 days.

This nail extensions are supposed to be stronger than a gel manicure

PolyGel nails don't harden until they're cured under an LED or UV light they are superior to acrylic.

With the proper application and removal, there's no need to worry about harming your natural nails.

The formulation of PolyGel combines acrylic powder for strength in a gel base, providing no odor and faster workability.

Poly gel is made for professionals, perfected for beginners.
How To Remove PolyGel Extensions?
In terms of removing Polygel nails, the polish is buffed off rather than soaked off. However, the remaining polish can be soaked after if needed.